Frequently Asked Questions
Why do I need a web site?
The Internet is a vast resource of information for both businesspeople and consumers. A web site is the first place potential customers come to when they want to know more about a business. It's the primary interface with the online world and perhaps a business's best salesperson. Consumers discover its ease of use. Businesses realize it is a cost-effective means of promoting their goods and services. The Internet has revolutionized entire markets. It allows all businesses an equal opportunity to market their products, services, and information in an effective and appealing manner.
The Internet continues to evolve. In the past, web designers only had to concern themselves with the computer screen. Currently, many types of Internet-ready devices exist. It is essential that today's web sites fit comfortable in as many screen sizes, shapes, and resolutions as possible. If your current web site is not usable on tablets and smart phones, it is time to update and redesign it. Otherwise, you are probably losing customers.
---
10 Reasons why Your Business NEEDS a web site.
What is custom web design?
Custom web design is the construction of the web contents and the incorporation of the company identity with the design and function exactly as you envisioned it. Through the custom web site design, a company can strategically place features and services that they believe will attract customers.
The custom web design process starts with a blank page and a strong connection with your vision and needs. Certain proven conventions in design are necessary to ensure proper navigation, logo presentation, and content layout and promotion. My goal is to create a unique comprehensible design that is easy to use and will stand out from template designs and designs that do not satisfy or adhere to the needs of design conventions, nor capture the client's perspective.
In short, through professional custom web design, let your web site create a compelling presence of your unique identity.
Recently, I came across a helpful infographic by Sitepoint.com author, Richa Jain, explaining what it takes to create a web site.
Why not just use a free/cheap online Web Site Builder Tool?
Many folks initially opt for this method to gain the advantage of having a presence in cyberspace. It looks so easy to do on TV. They select a template and customize it with colors, text, and personal graphics. In reality, many find out that using these tools take more time and effort than realized. Although these tools have improved, they still have an amateurish template appearance.
These services use third party plugins to add bells and whistles to their designs. Images uploaded by the user are not optimized for the Internet. Both these areas add needless bulk to the web site and drastically slow down its load time. Research shows that a web site that takes longer than 2 seconds to load may frustrate the visitor enough to seek out another business. These services focus on appearance. They discount usability, search engine optimization (SEO) techniques, social media integration, and, of course, load speed. All these aspects are important in the making of a successful web site.
Your web site should be as unique as you and your business. It should meet all your needs, both now and in the future. Custom web sites help businesses stand out above the crowd by applying those special finishing touches that quality custom graphics, proper organization, and well-written content can provide. Let's not forget about assets like performance, usability, and SEO techniques. An easy way to set you apart from the masses of mainstream business is with a unique web site, complete with a custom web design.
What domain name should I choose?
Choosing a domain name is like choosing a company name. It requires a lot of thought and consideration. Your domain name is your identity on the Web. Make sure you choose a name that not only fits your business, but is also easy to find and promote.
There are over 1000 top level domain (TLD) name suffixes available. Common examples include .com, .net, .org, and .biz. Country-specific TLDs such as .uk, .se, and .jp can be used to identify web sites located in the United Kingdom, Sweden, and Japan. Recently, hundreds of generic TLDs have joined the group like .accountant, .band, .career, .dog, .flowers, and .golf to name a few. View the complete list on Wikipedia.
All but the .edu, .gov, and .mil domain suffixes can be registered and used by anyone, meaning not all web sites match the definition of the TLD they use.
Common United States Domain Suffixes
.biz
Business, E-commerce
.info
Information Service
.co
Company, Commerce, Community
.me
Blogs, Résumés, Personal Sites
.mobi
Designed for Mobile Phones
Why choose Jeff Heiser over another web designer?
Some designers focus on trendy techniques or cool animations without considering the negative effect it has on the usability and the performance of the web site. Annoying popups, autoplay videos, detailed forms, and needless hover animations irritate me. I try to focus on practicality and the user experience. I use:
User-friendly navigation
Organized and well-structured web pages
Subtle animations to call attention to an item
Videos controlled by the user
Simple forms to gather necessary information
Popups to provide helpful information.
As a designer, I want to show off my skills. As one who peruses the Internet, I regularly see bothersome techniques that I try to avoid in my designs.
In addition to my Information Technology degree, I spend countless hours learning current web design practices. I combine over a thousand hours of self-taught techniques with those learned in the classroom and add my craftsmanship attitude to yield a honed skill as a web designer. Check out the list of books that I have read and/or purchased to enhance my web design skills.
Here are four of my favorite online learning web sites:
My work ethic and old-fashioned values enable me to complete tasks in a timely manner while charging a fair price for my work. Moreover, I effectively communicate with customers face-to-face, listen to their comments and ideas, and explain technological aspects in layman's terms.
In A Nutshell, I Build Simple Web Sites For Nice People.
How much do you charge?
I prefer not to disclose my rates on the web site. Many times, it depends what you want and what content and graphics you supply. It's safe to say that I charge less than many and more than some.

 Be assured, my rates are quite reasonable.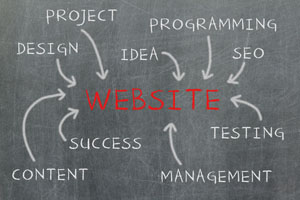 The web design process can be complex and time consuming. First is the consultation with you to discuss the project. This includes ideas, goals, target audiences, key messages to convey, and competitors. With this information in hand combined with some research, development of a site architecture and key pages lead to a visual design that conveys key brand perceptual ideas and to easily connect all aspects of the web site. Now, it's time for site development.
A typical custom web site includes 5 pages/tabs/sections. Examples are: Home Page, About, Contact (Contact Thank You), Products, Services, Portfolio, Store, Photo Gallery, Media, and Events. If a Contact/Sign up Form is designed, a corresponding Thank You Page is displayed after a successful submission of information. In addition to these pages are the Site Map (visitors and search engines look for these), Privacy Policy (if the site includes a form submission), and a 404 Error Page (Hopefully no one will ever see this. It displays when a customer clicks on a broken link). I integrate social media into the web site so visitors can easily find your social media pages as well as share items on the web site they like with their social media friends. I also include a favicon to help brand the web site and insert Rich Snippets to improve search engine results.
I start each site from scratch using HTML, jQuery, and CSS to design each web page. I normally incorporate animated effects to keep a visitor interested including a slideshow to display photos, announce events, promote products, etc. Animated call to action buttons are strategically placed throughout the web site so a visitor can easily find products and services leading to sales.
The web design process continues with the testing stage. Testing of the site is critical as there will inevitably be issues that need to be addressed before the site goes live. There is nothing that erodes a brand more than a site that doesn't function properly or that has misspellings or broken design elements. At this stage the site will need to be reviewed on multiple browsers (Chrome, Firefox, Safari, Internet Explorer) and multiple devices (laptops, tablets, and mobile) to see if and where breaks occur. Upon completion, the web site is launched and submitted to the major search engines (Google, Bing, Yahoo) for indexing.
How long does it take for a design to be completed?
The time scale of a project is generally dictated by the client. If you have a deadline in mind, I will make every attempt to meet it for you. The most common delay in the creation of a web site is waiting for the client to send me the needed content (text/images).
What types of enhancements can you add to a web site?
Although bells and whistles are commonly found on a web site, it is important to remember that the overall design and ease of use play more prominent roles. Visitors will go elsewhere if the web site takes too long to load or they cannot find what they are looking for. I use progressive enhancements available in modern browsers to both enrich the web site and keep it looking fresh.
Throughout my web site, I have added features that showcase my talents including:
Social media sharing

()

Slideshows
Photo gallery
Video
Lightboxes
Custom fonts
Shadows
Opacity
Animations
custom graphics
This animated accordion panel packs of lot of information into a compact and easy to navigate widget. Subtle animations help improve user interaction by keeping their interest and getting their eyes to focus on the key elements on the page.
Do you also host the web site?
I have had success using iPage to host the sites I have designed and recommend them to others. They offer:
Unlimited Disk Space, Bandwidth,

&

E-mail.
Free Domain Registration.
Free 24/7 North America Customer Support.
Free Security Suite.
Free Online Store.
Green Powered by 100% Wind Energy.
Reasonable Rates. (< $5/month for up to 36 months)
Many reviewers of web hosting sites rank iPage as one of the best.
Do your designs adapt well to mobile devices?
Because of the popularity of mobile browsers, netbooks, and tablets, I view all of my sites on the different desktop and laptop screens, iPad, Kindle Fire, and smart phones. I make pertinent contact information ( Phone Number, Email, and Directions) easily accessible on smart phones. All my site designs pass the Google Mobile-Friendly Test.
Your online resource MUST have responsive web design to stay Google-friendly.
Google does demote non-mobile friendly smartphone sites from ranking so well on mobile. And if you mess up with the techniques, they can hurt.

Search Engine Roundtable
Even if your non-mobile site does get found in a mobile search, 61% will abandon it.
Most of the traffic to the two major U.S. search engines (Google & Bing) comes from mobile devices. If your web site isn't mobile friendly, it is time to update it.
A new buzz word in web site development is responsive web design. I have studied techniques and design principles from notable web designers, Ethan Marcotte, Lea Verou, and Vital Friedman so my designs deliver a quality experience to all visitors no matter how large (or small) their display. I have completed web design courses at Learnable.com, Udemy.com, and TrainSimple.com.
My designs adapt to the viewing display in lieu of a shrunken down version of the web site viewed on a desktop or laptop computer. This improves the appeal for those who visit the web site via a tablet or smart phone. As noted above, it now also improves your search engine ranking when visitors search from mobile devices.
Will my web site be listed in the search engines?
Yes. Search Engine Optimization (SEO) is an integral component of the design. The web site creation process includes strategies to make your web site more appealing to search engines via keywords and phrases listed in titles, headings, and copy. Adding Rich Snippets and a Site Map positively influence search engine rankings. Upon completion, the web site is submitted to the major search engines (Google, Bing, Yahoo) for indexing. This service is included in the web design package.
Your online resource MUST have responsive web design to stay Google-friendly.
Both Google & Bing penalize a non mobile-friendly web site when users search on mobile devices.
Just want to improve your search engine results? I now offer a Search Engine Optimization (SEO) service. I will check your web site and employ techniques to boost your search engine results. These are similar to the strategies I use when creating a new web design. Please note that these techniques do not change the existing web design and that better search engine results may take months to become noticeable. If your current web site is not mobile-friendly, I recommend starting from scratch with a new custom web design.
After you design the web site, how are changes made?
During the first month after web site completion, any slight tweaks or amendments are carried out to the web site free of charge. After this period, I can also stay on board to maintain the web site. I strongly recommend a web site maintenance program. Here are just a few reasons...
Search Engines value FRESH content.
Broken links and pages hurt your search placement.
Visitors are turned-off by out-dated content and poorly functioning web sites.
To insure that your web site works properly on different browsers like Chrome, Firefox, Safari, and Internet Explorer.
To remove web site vulnerabilities and reduce security risks.
I offer several web site maintenance agreement options.
Do you fix computers?
No. My skills are more adept to web design. My son, Jeff Heiser, Jr., does. You may think that I am just a proud father promoting his son, but his repeat customers and word-of-mouth growth speak volumes about his abilities to remove viruses, resolve network issues, and perform general computer repairs at reasonable rates. He can save your computer from a trip to the curb.
Are you still a Carpenter/Handyman?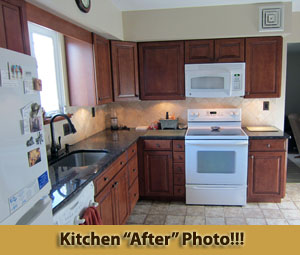 Yes. It is difficult to give up something at which I excel and enjoy doing. Check out my photo gallery featuring some of my carpentry work. Pictured is the kitchen I recently remodeled. Hover Over/Tap the Before photo to see the After photo.
The kitchen features a new vinyl floor, over-the-range microwave oven, a granite counter top, and stone tile backsplash. In addition, hardwood replaced the drab vinyl flooring in the foyer.